Our Products
Sheerness Recycling Ltd, by virtue of operating it's own recycling depots around Kent, is able to produce and deliver a range recycled aggregate and soil products to construction and building projects in the South East.
These products are produced to the WRAP protocol and as recognised by BS EN standards and the Specification for Highway Works (SHW), recycled aggregates can be used in the same way as many traditional aggregates. Types of recycled aggregates include: type 1 hardcore, type 1 sub base, type 2 hardcore, 6f2 material, asphalts and others.
In addition to this, Sheerness Recycling Ltd are also able to offer a range of other materials including primary aggregates, soils and clays to meet varying construction needs. The products supplied will, where applicable, conform to relevant British Standards (BS EN) and Specification for Highway Works (SHW).
The products are as follows:
Type 1 Recycled Aggregate
Crushed, screened materials produced by our state of the art recycling plants, situated across Kent.
6F5 Recycled (Formerly 6F2 Recycled)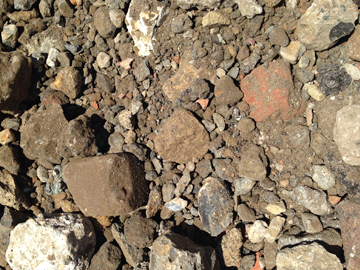 Typically used for capping sub formations prior to laying Type 1 or Type 2 sub-base. Well graded material ranging from 125mm to dust.
75-50mm no fines Recycled
Typically used for soakaways.
Asphalt Planings
For use as hardcore for temporary roadways and sub-base.
6F4 Recycled (Formerly 6F1 Recycled)
Finer Capping Layer used in the same applications as 6F5 but with a finer grading. Generally 50mm to dust and evenly graded.
Certificated Topsoil
Complying with BS3882 and CLEA limits on heavy metals and hydrocarbons. Used in a variety of planting and landscaping applications due to its loamy, water retentive nature. The soil is commonly used to build up flower borders or create new beds.
General Purpose Soils
General purpose topsoil that has been screened to remove larger particles. Screened top soil is suitable for turf laying and garden borders.
Type 1 Granite/Limestone
Type 1 must be of a crushed nature to provide a stable sub-base for road surfaces and pathways. The mixture of solids and fines ensures minimal voids in the sub-base material when compacted, giving a strong load bearing layer with a suitably flat surface.
Fill (Reject, Bedding) Sand
A fine grade as dug sand. Typical use as a trench fill in utility works. Produced at our own quarry.
10mm Gravel (Shingle)
A mixture of rounded and angular gravel, varying in colour and shape dependent on source. Used in construction and domestic applications such as footpaths, pipe bedding, drainage, planting borders and hard landscaping.
20mm Gravel (Shingle)
An effective driveway gravel also used for footpaths, pipe bedding, drainage, planting borders, hard landscaping and as a low maintenance alternative to grass. It can also vary in colour and shape dependent on source.
0/20mm All in Ballast
A mixture of Sharp Sand and 20mm gravel for use in standard concrete mixes. Widely used in construction and domestic applications. 20mm Ballast is not suitable for drainage due to its high fines content.
Sharp Washed Sand
Sourced from sand & gravel pits and wharves and generally varying in colour from yellow to brown dependent on the source of supply.Nominally 0-4mm in size.
Dry Screened Building Sand
BS EN 13139, also known as soft sand due to its fine rounded particles. Typical use is for the production of mortar for bricklaying and block work. Produced at our own quarry.